Pool Remodeling and Pool Resurfacing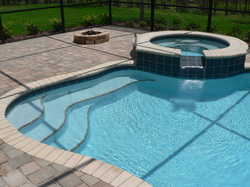 If you have an exisiting swimming pool or spa that needs remodeling, Roden Pools is here to serve you. We have extensive experience in complete pool remodeling and pool resurfacing. Let us help you modernize your pool, spa, pool deck or pool equipment today.

Who better to resurface or remodel your pool than Roden Pools, a licensed pool contractor. With our years of experience in constructing pools we can remodel your pool and make it look brand new again. Roden Pools has the experience to do the job right.

Here are some examples of the changes we can make to your pool or pool deck:
· Pool and Spa Resurfacing
· New Pool Tile
· Update your deck with pavers and pool/spa coping
· Make an addition to your existing pool deck
· Add a firepit on your pool deck
· Replace pool screening
· Upgrade your pool equipment
· Convert your pool to a salt chlorination system
· Add a spa or sun shelf to your pool
· Make a deep pool not so deep anymore

By code, only a Licensed Pool Contractor like Roden Pool Contracting, Inc. can make many of these modifications to your pool. Roden Pools is your one stop solution for all your remodeling and resurfacing needs. Our Photo Gallery has several examples of just how beautiful we can make your pool look. Whatever your swimming pool and spa needs are, we can help.

Call us today at 863-299-2828 for a free estimate!


---